Prophecy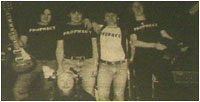 Prophecy
Photograph courtesy: Tamworth Herald

The Gallery
Musical Genre/Type: R&B
Formed: 1982
Band Members:
Kevin Fisher - Guitar (Manager)
Rob 'Guitar' Marshall - Guitar
Dave Lea - Drums
Mark Force - Vocals
Other Members:
Satan Strange - Guitar
Mick Eade - Drums
Gigs
18/02/84
Prophecy
Elford Working Mens Club
25/02/84
Prophecy
Shuttington and Alvecote Social Club
01/09/84
Prophecy
Glascote Working Mens Club
25/11/84
Prophecy
Glascote Working Mens Club
13/04/85
Prophecy
Elford Working Mens Club
Tamworth Herald – 10/09/82
Musicbox – Two new players sought
A NEW Tamworth-based R and B outfit are on the look-out for two new members to complete their line-up.
Prophecy need a bass player urgently to establish a settled working outfit but would also like to add a keyboards player to the band.
The line-up at the moment is Kevin Fisher, guitar, Rob 'Guitar' Marshall, guitar, Dave Lee, drums and Mark vocals.
Kevin said: "We are basically playing R and B material with rock overtones." Anyone interested should contact Kevin…
Tamworth Herald – 10/12/82
Musicbox – A Prophecy for some fine rock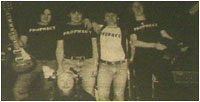 IT'S NOT often that Musicbox receives phone calls from local fans about a band they have seen.
But that was just what happened not too long ago when an enthusiastic rock fan came on the line fairly brimming with superlatives about a gig at the Chequers in Hopwas.
Prophecy, an outfit from the fringes of the Tamworth area, were the band concerned and our caller couldn't find words enough to praise their performance.
Prophecy are Kevin Fisher, guitar and manager; Dave Lea, drums; Satan Strange, guitar; Mark Force, vocals and Mick Eade, drums.
Guitarist Satan has been with a number of bands in the area before, including Thor and Hydro Vein and Mark also had spells with working bands.
So far their gigging experience together is limited – a situation which they hope to change soon.
Most of their material is based on 'good time rock 'n' roll' standards such as 'Johnny B Goode', 'House of the Rising Sun' and 'Jumpin' Jack Flash', but they are already penning some of their own compositions for future live use.
Tamworth Herald – 06/05/83
Musicbox – Appealing bands
TWO local bands are on the look-out for new members.
Prophecy – the Curdworth based R and B/rock and roll outfit – need a singer. The band have a number of gigs lined up right through to the end of the year and it's vital they find someone to take over the vocalist duties. Anyone interested should ring Kevin…
Meanwhile Lichfield outfit Spring Auction Torture want a vocalist and drummer. Like Prophecy they have gig commitments to meet and need to replace two recently-departed members. They describe their sound as 'pop music, somewhere between new wave and rock' and anyone interested should ring Andy…
Tamworth Herald – 18/11/83
Musicbox – Come on, join the bands
SEVEN Tamworth bands will be battling next week to win the prestigious Burton Musicians Union rock and pop contest.
This year the contest – which has included several top Tamworth bands over the years – features 24 groups from all over the East Midlands.
The contest is divided into four separate heats from Monday to Thursday and the top two bands on each night will be asked to appear at the grand final on Friday.
The amount of competitors from Tamworth is the highest ever – reflecting the increasingly healthy local scene.
On Monday night the town's sole representatives are Talk Back who with their professional and commercial sound are sure to take some beating.
The following day tow Tamworth bands will be opening the proceedings – Vince Watts' new band Formaldehyde and the rock band Prophecy, who line up alongside two bands oddly-named A5 and Minnus Tyreth.
Final
On Wednesday night two of the town's top bands, Laughter in Heaven and the Royal Family, should guarantee that at least one local act makes the final. Laughter's gothic sound and the Royal Family's blues could not be further apart musically but they are both certain to excite the panel of judges.
Thursday night throws up a very unusual coincidence. BHX and Eyes will both be appearing – the night before the two groups will be playing together in a previously arranged gig at the Arts Centre.
With such a varied selection of local bands playing, by the time you read this it is possible that three or four Tamworth bands will be getting ready to play at the grand final for a variety of prizes.
One things that all bands could certainly do with is support. In previous years Tamworth acts have suffered because they took no followers with them while groups from Burton and Derby particularly seemed to bring armies of fans.
Entrance to the Burton Town Hall on all five nights is just 50p – a remarkably small sum to see six new bands a night in action. It would do the Tamworth music scene enormous good for one of our bands to win 'away from home' and we must all keep our fingers crossed for local success.
SAM HOLLIDAY
---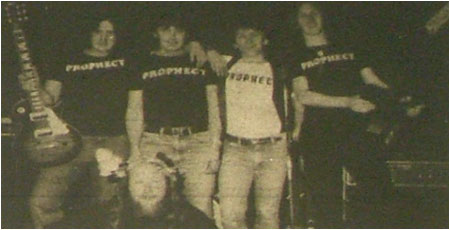 Prophecy
If you have any further information about this band please email: info@tamworthbands.com