(Incredible) Kidda Band
Musical Genre/Type: New Wave
Formed: 1976 Split: 1985
Band Members:
Alan Hammonds – Vocals
Kidder Hammonds - Second Vocals
Gordon "Charlie" Smith - Bass Guitar
Dean - Lead Guitar
Les - Drums
Gigs:
10/10/76
Kidda
Dordon Working Mens Club
12/12/76
Kidda
Dordon Working Mens Club
06/02/77
Kidda
Dordon Working Mens Club
12/03/77
Kidda
Amington Liberal Club
17/04/77
Kidda
Dordon Working Mens Club
21/05/77
Kidda
Amington Liberal Club
29/05/77
Kidda
Dordon Working Mens Club
18/06/77
Kidda
Polesworth Working Mens Club
10/07/77
Kidda
Dordon Working Mens Club
06/08/77
Kidda
Polesworth Working Mens Club
13/08/77
Kidda Band
Hurley Working Mens Club
04/09/77
Kidda
Dordon Working Mens Club
15/10/77
Kidda
Tamworth Progressive Club
27/10/77
Kidda
Polesworth Working Mens Club
30/10/77
Kidda
Dordon Working Mens Club
26/11/77
Kidda
Polesworth Working Mens Club
15/12/77
Kidda
Polesworth Working Mens Club
14/01/78
Kidda Band
Hurley Working Mens Club
19/02/78
Kidda Band
Dordon Working Mens Club
02/03/78
Kidda
Polesworth Working Mens Club
27/03/78
Kidda Band
Hurley Working Mens Club
16/04/78
Kidda
Dordon Working Mens Club
04/05/78
Kidda
Polesworth Working Mens Club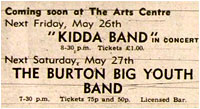 26/05/78
Kidda Band
Tamworth Arts Centre
27/05/78
Kidda Band
Hurley Working Mens Club
01/06/78
Kidda Band
Polesworth Working Mens Club
09/07/78
Kidda
Dordon Working Mens Club
13/07/8
Kidda Band
Polesworth Working Mens Club
25/08/78
Kidda Band
Austrey Working Mens Club
07/09/78
Kidda Band
Polesworth Working Mens Club
23/09/78
Kidda Band
Hurley Working Mens Club
12/10/78
Kidda
Polesworth Working Mens Club
15/10/78
Kidda
Dordon Working Mens Club
23/11/78
Kidda
Polesworth Working Mens Club

01/12/78
The Kidda Band
Tamworth Arts Centre
28/12/78
Kidda Band
Polesworth Working Mens Club
15/10/79
The Kidda Band
Chequers
Tamworth Herald – 15/04/83
Musicbox – New-name for Kidda
REMEMBER THE Kidda Band, the Nuneaton outfit who went very close to the big time in the latter part of the last decade.
Well you may be interested to know that the members of the band are playing an informal 'come-back' gig in the Tamworth area next week.
Calling themselves 'Guy Gibson's Flyers', they are playing at the Curzon Arms in Twycross on Thursday (April 21).
A spokesman for the 'Flyers' says: "We just thought it would be fun to get together again and play. It's not a one-off but it's not a steady band either.
"We will be playing basically rock and funk material."
---
A complete history of The Kidda Band can be found at: www.kidda-band.co.uk here's just a flavour of the site...
Memories:
The bands first ever live gig took place at Les' birthday party and was a very nervous affair for every one involved.
18 September 1976 - The line up of the Kidda Band as most people know it was starting to come together following the departure of Dean on lead guitar after the first live gig.
"The Friary Live Rock" show featured Gordon "Charlie" Smith on bass guitar, Dave Lister, having replaced Dean, on lead guitar with Kidder and Alan continuing with the vocal duties as before.
The missing drummer from this shot was Les, whose time with the band was to be short lived as, unbeknown to most members of the band, discussion were already underway between Alan and Kidder and two members of rival local band Vertigo as to their willingness to join the band.

Support act for "The Friary Live Rock" show were rival local band Vertigo.
Vertigo featured Ian "Ash" Ashby on vocals, John Rollason on guitar, some other geezer on bass and finally Chris Statham on drums.
Alan and Kidder had already held discussions with John about joining the Kidda Band to take on rhythm guitar duties, and they were also looking for Chris to take over from Les on drums.
They both did so shortly after. Chris Stathams stay in the band was also short lived, finally being replaced by Graham "Dick Millington.

16th April 1978 - The main Kidda Band line up was now in place and live shows became a regular part of everyday life which had a big impact on the day job.
During the day Alan worked for Sketchley Dry Cleaners (the inspiration for the song Don't take me to the cleaners) along with Johnny, Kidder worked as an underground electrician at the National Coal Board, Dick worked at the local newspaper in Nuneaton (The Evening Tribune), Dave was a long distance lorry driver and Les was unemployed.
Eventually the band gave up work and concentrated on the music. Dick left at this time to be replaced on drums by Paul Gardner.
Thanks to: Kidder
---
Unreleased Material
The site has been recently updated with some clips of some of the unreleased tracks from the archives stretching across the full lifetime of the band and its various line-ups.
Why not check out the official site for details: www.kidda-band.co.uk
EBay
Good news for anyone searching for The Kidda Band/Kicks 7" Vinyl "Get off the Telephone" single, there is one on sale on EBay currently.
Also on sale on EBay are the CD, the T-shirts and the "Snap, Crackle and Pop" lyric book. You can get whatever you are missing from your collection now….but before you do check out the extended CD/T-Shirt offer below.
Extended CD and T-Shirt Offer
We are down to our last few t-shirts and so we are offering a special T-Shirt and CD offer but only until the stock of T-Shirts has gone (all are a small XL – more like L).
So if you fancy a T-Shirt and the Too Much Too Little Too Late CD for just £10.00 GBP (approx $15US/11 Euros) plus shipping then check out the site.
Alternatively if you want just the T-Shirt for just £5.00 GBP then (approx $7US/6 Euros) plus shipping then check out the site.
PayPal is our preferred purchase method as it keeps everyone's costs down!
You Tube news:
There has been a new video put up on YouTube at http://www.youtube.com/user/TheKiddaBand A rough movie of the band running through "I wouldn't treat a dog like you treat me" a previously unreleased track which continues the tradition of great pop tunes!
One of our other Videos has now passed 3,000 plays and our other videos are beginning to close in on that figure which has really taken us by surprise – thanks to you all!!
We are still looking for old clips of the band from wherever we can find them and if we are successful we hope to add more videos soon.
Vinyl Mania
We are still in discussions about a re-release of both the Too Much Too little Too late album on vinyl and also the two original singles. Watch this space for more news in the future.
My Space News
I would love every single one of you to come and join up as a friend if you're an existing My Space user. You can find the site at www.myspace.com/thekiddaband.
I have also created a My Space page for the final line up of ex-Kidda Band members, We're Only Human. It would be great if every single one of you could also join us as friends at that site too. You can find this site at www.myspace.com/wohuman. Please sign up soon.

The Official Mailing List
Why not join the Official Kidda Band Mailing List? It's easy to do - you can simply cut and paste this into your browser to add yourself:
http://www.aardvarkmailinglist.net/sub/account_manager.php?action=add&c=6947SJW&l=5641

Keep rocking

Kidder