Tamworth Battle of the Bands : A History
Battle of the Bands 1987 - Wiinners: Wolfsbane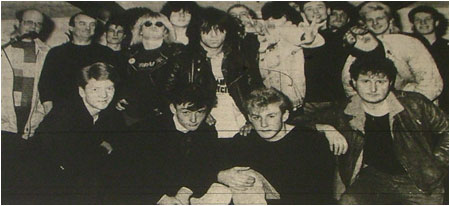 SUPER WOLFSBANE turned in the performance of their rock and roll lives on Friday night to deservedly scoop the 'Battle of the Bands' title for the first time.
Friday February 28 1987
Battle of the Bands 1987 Final
Wolfsbane (Winners)
Catch 23
The Cheesy Helmets
Breaking Point
Tamworth Arts Centre
Admission: £1.00
Judges: Stu Blane (One On One), Mark Mortimer (Great Express), John Reeman (XPD), Denis Byfield (Reverb PA) and Martin Webster.
Prizes: The winners will pick up a trophy donated by the Tamworth Young People's Arts Festival and a £75 prize – they will also carry the title Tamworth Young People's Arts Festival band of the year.
The Heats
Heat 1
Saturday February 7 1987
Tamworth Arts Centre
Kara
Breaking Point (Heat Winners)
Rape in Yellow
Admission: £1.00
Judges: Chairman - Herald staff-man Martin Warrilow, Edward ian Armchair and local poet Kevin McGeough.
Heat 2
Saturday February 14 1987
Tamworth Arts Centre
Depth Charge
Shellshock
Catch 23 (Heat Winners)
Admission: £1.00
Judges: Chairman - Herald staff-man Martin Warrilow, former Orange singer Anice Byfield and XPD man John Reeman
Saturday February 21 1987
Tamworth Arts Centre
Wolfsbane (Joint Heat Winners)
Cheesy Helmets (Joint Heat Winners)
The Calling
(Performance by: Emma Gibbs Loves Badges)
Admission: £1.00
Judges: Chairman - Herald staff-man Martin Warrilow, local fanzine editor Rob Cross and 'Rathole' organiser Pam Patton.
1987
Tamworth Herald – 30/01/87
Musicbox – Battle lines drawn for the big nine
TAMWORTH's post-Christmas band crisis was reflected on Sunday night when just nice bands declared they were fit and able to fight it out for this year's 'Battle of the Bands' title.
With many bands committed to other concerts – or simply immersed in apathy – it means each of the heats will feature just three bands instead of the anticipated four.
Organisers did consider delaying or abandoning the Arts Centre concerts, but it was felt that the enthusiasm of the bands who did want to play, would cancel out the problems.
The draw for the three heats was completed on Sunday and it means the battle-lines are drawn thus:
Saturday February 7: Kara, Breaking Point, Rape in Yellow
Saturday February 14: Depth Charge, Shellshock, Catch 23
Saturday February 21: Wolfsbane, Cheesy Helmets, The Calling.
Each of the bands will be given 30 minutes apiece to impress a three or four-man judging panel and the winning bands will then be invited back to a gala final on Friday, February 28.
The winners will pick up a trophy donated by the Tamworth Young People's Arts Festival and a £50 prize – they will also carry the title 'Battle of the Bands Winner 1987'.
Entry on all four nights will be just £1 with any profits going towards the TAMAID fund for the Quince Tree Special School at Amington.
We will give more details of the various heats in the forthcoming MUSICBOX columns, but for now get your pencils and mark down Saturday February 7, 14, 21 and Friday February 28 as nights not to be missed. Four great nights are in prospect!.
Tamworth Herald – 06/02/87
Musicbox - New boys take on the old masters
TAMWORTH'S 'Battle of the Bands' competition starts in style tomorrow night (Saturday) when Kara and Breaking Point take in the debut-making new boys, Rape in Yellow.
The trio will battle it our for a place in the grand final on Friday, February 27 where they stand to win a special trophy, a special title and a very special £50!
Obviously most eyes tomorrow night will be on new Dosthill-based band Rape in Yellow. They have been quietly rehearsing for some time and have just burst onto the local scene with a superb three-track demo which was reviewed in MUSICBOX last week.
The band's music is modern psychedelia with influences including The Cure and The Doors and it has an original and distinctive feel.
It is produced by two brothers Ian and Graham Harwood and guitarist Lee Partlow. In the studio the rhythm section was made up of Batman and Peter Wright but tomorrow night Graham, Lee and Ian will be joined by former Love On Board and Orange bassist Glen Lewis and ex-Femme Fatale and Orange member Nigel Horton on drums.
The band are keenly looking forward to this, their first ever concert and the sound they produce looks like being welcomed with open arms by the Tamworth public keen to see something new.
Powerful
Battling it out against Rape in Yellow will be two more experienced bands both of whom have considerable presence and following. Kara will open proceedings at 8.30, have already played several prestigious gigs and have made many friends with recent shows alongside The Dream Factory and Strap On Jack.
Their music is commercially orientated metal with a powerful feel. As well as being cohesive and strong, it also has a general appeal which means that more than just metal-men have sung Kara's praises in recent weeks. They will clearly be formidable opponents.
Completing tonight's line-up are Breaking Point who will be second in the three-band billing. They have slowed down the gig-rate of late while they promote their excellent single which ensures a good-sized crowd whenever they take to the stage.
Their music for those who may have forgotten(!) is 'uptempo' modern alternative rock owing much to the feel of bands such as The Alarm and U2. They sing about passion and play passionate sounds, and as previous winners of the battle of the Bands crown, they are certain to start the heat as favourites to go through.
Putting all the elements together, the gig offers the widest possible range of music which should hopefully attract the widest possible audience. Entry is just £1 at Tamworth Arts Centre and the whole show starts at around 8.30 finishing about 11 o'clock.

With the recent gig glut that has infected the area tomorrow night offers a fine chance to enjoy a great night out and three great bands to boot. Be there or forever be a lemon.
All the bands will be given 30 minutes each to impress a three-man judging panel. It will be chaired throughout by Herald staff-man Martin Warrilow and tomorrow's guest judges are Dance Stance member Nick Reed and local poet Kevin McGeough.
Tamworth Herald – 13/02/87
Musicbox – Charge of a Valentine massacre
THE SECOND HEAT of the Tamworth Battle of the Bands blazes into action tomorrow night (Saturday), when Atherstone favourites Catch 23 take on the might of two rock outfits – Depth Charge and Shellshock.
All three bands have every reason to feel confident of success on the night and on paper it seems the Arts Centre concert is wide open.
Staring proceedings on Saturday will be Depth Charge, who are looking forward to this their first concert for some time.
The band – who recently flirted with names like The Muff Doctors and Caging The Raven before returning wisely to their original monicker – were desperately unlucky not to win their 'Battle ' heat last year, when they were just edged out by Wolfsbane.
Then, like now, Depth Charge played the sort of music people like me hate – i.e. the sort that is very difficult to label. It is rock in essence, but rock owing more to the spirit of the mid-late Seventies rather than the mid-late Eighties.
It has a popular edge and a well-disciplined sound and Depth Charge earn almost universal respect among the town's musicians.
Accolade
A rare accolade and an enjoyable band who will kick off Saturday's Arts Centre proceedings at around 8.30pm.
Next up will be Shellshock, playing their first Tamworth concert with new lead singer Andy Mottram. Andy who hails from Measham, has already impressed many people after fronting the band at three Burton shows and Tamworth's rock fans will be able to make their minds up tomorrow.
The band say their music can best be summed up as heavy rock with an occasional metal edge, and they are confident that it has improved and refined since their last appearances around the time of the Rock Festival.
The group have also expanded their set somewhat and are confident that their songs are now more complete and well-structured. They are keenly awaiting their show which comes hours after their gig at Burton tonight.
Completing the three-band extravaganza are Catch 23 who really made their name by appearing in last year's 'Battle'. Since then the band have been regularly in action and have made friends with every single show.
According to the band, their music is 'pop with aggression', an all-embracing term which shows their all-embracing appeal. It is stylish, spirited and polished power pop and the band will approach Saturday's show with their normal enthusiasm and determination.
A quick head-count with some local music-watchers made Catch 23 favourites to win the heat but as any good bookmaker will tell you the favourites don't always win.
Great
So there it is – another fine, varied and enjoyable concert. One winner will be chosen by the three judges – Martin Warrilow, former Orange singer Anice Byfield and XPD man John Reeman – but in the real tradition of the 'Battle of the Bands' this is not just about competition.
It is about bringing together three different bands to produce one great night out for local gig-goers. It costs just £1 to enter (starts at 8 and finishes at 11) and as it is Valentine's Night why not be romantic and bring a friend?
After all what could be more romantic than spending Valentine's day in a sweaty little room full of loud noises, screaming singers and pulsating speakers? Answers on a postcard please to St. Valentine's Day Massacred, Tamworth Herald, etc. etc.
N.B. Will all bands please arrive at the Arts Centre at 5.45 – and be prepared to stop and sort out the stage at the end of the evening.
Tamworth Herald – 13/02/87
Musicbox – Points ahead for fire-cracking set
FIRST NIGHT of the 'Battle of the Bands' turned into an entertaining, controversial and thoroughly enjoyable night. All three bands played well enough to leave large sectors of the audience thinking their favourite had won, and the scores couldn't have been tighter.
In the end the three judges – Edward ian Armchair, Kevin McGough and chairman Martin Warrilow – were split somewhat, and the difference between the first and third bands was a mere five points. And this is how it all went…
KARA
A lively, well-structured enthusiastic set from a band who certainly had the backing of the majority of the large, noisy crowd. The band three out the cover versions and replaced them with their own much stronger material which fully displayed their inherent knack for writing commercial, powerful and anthemic metal pop. A strong, intelligent set.
BREAKING POINT
Making their first appearance for some time, Breaking Point were loud, brash and exciting. Their material combined the dazzling old ('Nicholas Romanov' and 'Ambergold') with the dazzling new ('Britannia and 'Israel') to produce a fiery, well-balanced set. All three members sounded musically better than I can remember, but a special word for bassist Daydo who was simply magnificent. A fire-cracking 30 minutes.
RAPE IN YELLOW
A confident and extremely promising debut which led one judge to say 'they're going to be the best band in Tamworth'. Rape In Yellow's sound mixes the Sixties feel of The Kinks and The Beatles, with the Eighties feel of the Cure and Julian Cope and is played with inventiveness and considerable musical prowess. Graham Harwood has a superb voice, the band have a strong, marketable image and when they get through the inevitable early teething problems they have literally masses of potential to be very big indeed. A band with a big future and very nice haircuts.
THE JUDGES' VERDICT
Breaking Point sneaked into the February 27 final by the smallest of margins. They won it through their choice or material and general impact although all three judges scored very highly for both Rape In Yellow and Kara.
MY VERDICT
Although my love for Breaking Point is well-known and unabashed I think on the night Kara just about deserved to win. They played with spirit and enthusiasm and looked hungry for success. In a sense it was perhaps unfair to judge Rape In Yellow as they were making their debut but I am sure if they had sneaked in there would have been few complaints from anyone. Three good bands and a hard decision for three good judges. The debate will go on about the final result but one thing is certain – Tamworth definitely won!
Tamworth Herald – 20/02/87
Musicbox – Metal me ready for needle match
Battle of the Bands
THE final heat of the 'Battle of the Bands' takes place tomorrow night (Saturday) with the wild, wacky and wonderful Wolfsbane red-hot favourites to beat the alternative-based acts The Calling and The Cheesy Helmets.
It is Wolfsbane's first Tamworth appearance since they disappeared to Dubai before Christmas and Steve, Jeff, Bayley and Jase have been keenly awaiting the chance to slay their 'home' audience with a new bristling act.
Faced against such titanic opposition, The Calling and The Cheesy Helmets will have to be at their very best but Wolfsbane will be only too aware that, as Breaking Point found out in the first heat, neutrals do not like favourites. Wolfsbane could find they have to work very hard indeed to claim the heat, ensuring a tremendous night of rock and roll excitement at the Arts Centre.
Wolfsbane actually open the proceedings at around 8.30. The boys have promised a set littered with newies, some of which were created and perfected literally thousands of miles away.
The band regard their show as a belated coming-home party and they are itching to show off their enthusiastic, bountiful sound. It is metal packed with mirth and much gyrating of bodies and brains is expected.
Going on first isn't the easiest place to start, but if anyone can pull it off, Wolfsbane can.
Second up will be a band making perhaps their final appearance – The Calling. The band have played Tamworth only once before as support to the not-so-mighty Mighty Mighty. Then their black alternative sounds met with a mixed response but they have battled on regardless and will be looking to go out in a blaze of glory. The band are made up of ex-Cradlites, ex-Green Swingians et al, and are visually very powerful.
Their musical heritage owes much to the likes of Sisters of Mercy and their sound should appeal to most people who walk on the blacker side o life. If this is their last show – as I am reliably informed – it could prove an interesting night for musicians and audience alike.
Third up will be The Cheesy Helmets a Chameleons-style outfit who have already traded under the names The Gargoyle Brothers and Spartan Cruise. At the last count the band were somewhat drummerless, but they promised to carry on unperturbed and their original and entertaining end product could well make them the successful dark horses of the whole competition.
Combined
In addition, on the night, there is a chance that the neo-legendary Emma Gibbs Loves Badges may well play a short acoustic-based set to add an extra dimension to an already exciting night.
Judging the three groups tomorrow will be local fanzine editor Rob Cross, 'Rathole' organiser Pam Patton and chairman Martin Warrilow. Just one band will be chosen to go through to the final on Friday, February 27 where they meet the combined power of Breaking Point and Catch 23.
The final already looks noisy and intriguing, so if you want to see who joins Breaking Point and Catch 23, make your way to the Arts Centre tomorrow night at around 8.15pm and bop 'til you drop! It costs just £1.
Tamworth Herald – 20/02/87
Musicbox – Exciting time with the famous five…
THE SECOND night of the 'Battle of the Bands' was yet another exciting, powerful night of pop fun. All three groups – Depth Charge, Shellshock and Catch 23 – played as well as I have seen them play before, and the large, good-humoured audience gave each of the bands an enthusiastic response. And, it all went like this…
DEPTH CHARGE
Back with a new line-up and back with a bang. The group have obviously spent a long time sprucing up their image and sound, and effect certainly worked.
Opening up with the excellent 'Back on my feet again', the group soon settled down to turn in a professional, enjoyable and very uplifting set. Trevor and John Muggleston combined for a superb joint-guitar attack and with good work from Gary, Steve and the ever-improving Mick Goodby, Depth Charge proved they are well on course in their masterplan to take over the universe as we know it!
SHELLSHOCK
Another honest and pulsating set from a band who have tightened up beyond belief since their pre-Christmas days. Andy Mottram adds a strong dimension to the overall attack with the powerful vocals and full credit to drummer Bruno Edwards whose technique and confidence seem to have improved beyond recognition. Although this is obviously metal music, the opener in particular showed that the band have the ability to cross over strict metal barriers and appeal to an even wider audience. The best Shellshock set I have seen to date.
CATCH 23
Well, what can say? This was simply outstanding and ranks as one of the finest set I have EVER seen a local band perform. The group were confident, stylish, musically ambitious and literally oozing with potential and promise. They have matured from a good young band into a great young band, and they never put a foot wrong all night. I felt rather as I did last year when I saw Dance Stance play at the Rathole and came out saying 'that's it, they are going to make it." Catch 23 I salute you. Your time has come – and this was a magnificent set.
THE JUDGE'S VERDICT
Had Depth Charge and indeed Shellshock played on any other night they may have made the final. But against Catch 23 in this form they were always on an uphill struggle. Catch 23 scored what I think is the highest mark ever seen in a Battle of the Bands heat and their overall sound and impact seemed to hit the judges right between the eyes. The opening two bands both excelled themselves, but even Shellshock singer Andy Mottram knew that the young Atherstonians had snatched it. The judges were – unlike last week – unanimous.
MY VERDICT
Well this week I had to agree with the judges. I stood with my mouth open from the first until the last note of Catch 23's set and everything about this exciting quintet impressed me. ON Saturday I could see the band maturing before my eyes and it was a maturing process I found very, very exciting. Worthy winners and I would say a good bet for next week's final.
Tamworth Herald – 27/02/87
Musicbox – BATTLE ROYALE!
TAMWORTH Arts Centre will tonight host one of the most exciting concerts of the year – the grand final of the 'Battle of the Bands'.
Four varied and enjoyable acts – Catch 23, Wolfsbane, The Cheesy Helmets and Breaking Point – will battle for the crown which was won last year by One On One.
The success of the whole 'Battle of the Bands' event has been staggering. Already all the overheads have been covered meaning every penny raised tonight will go towards the 'TAMAID' charity.
Tonight's final promises to be the most wide-open in the three year history of the tourney. Two years ago when Breaking point won it, they went into the final as favourites, last year's winners One On One were widely tipped to take the title, but tonight looks like 'anybody's game'.
Because there are four bands, the concert will start at 8.30pm instead of 9pm – and opening up the proceedings (a draw was made after last week's heat) will be the Cheesy Helmets. These are certainly the dark horses in the contest, but the way they won over last week's judges implies they could yet pull off an overall victory. Musically it is powerful post-punk new wave which has a modern and absorbing atmosphere and is fiery, frantic and frenzied. With the temporary help of outstanding drummer Richard Deane the overall effect is an earburning experience of pure power. Get there on time, because you should not miss this band…
Following the Helmets, will be the youngest band ever to appear in a 'Battle' final – Catch 23. Despite their tender age the Atherstone outfit have matured beyond belief in recent months, and are now at the stage where their confidence matches their considerable musical talent. The five piece were simply magnificent when they took their heat with their aggressive, commercial, pop which won friends of all musical persuasions. Many people think they will win tonight's final – including both Jeff and Steve from Wolfsbane – but whatever the outcome the group intend to enjoy the night to the fullest. The audience will do the same if Catch 23 are even half as good as they were in the heat.
Following Catch 23 will be those mayhem-merchants of metal (good alliteration, huh?), Wolfsbane. The quartet, who seem to be following the old maxim every day in every way we're getting better and better' thoroughly enjoyed last week's heat and are keenly awaiting taking the audience to pieces tonight. Particularly looking forward to it is drummer Steve Ellett whose exhilarating performance and appallingly 'cheeky' trousers last week showed that he is a true bonafide Wolfsbanian fruitcake. Wolfsbane are a lot of fun and on their night they are simply unbeatable. Is tonight that night.
Completing tonight's line-up are Breaking Point – an ambitious trio who thankfully seem now way near their own breaking point. Kevin, Daydo and Jason will enjoy the large, noisy audience the night will certainly produce and their modern guitar-orientated power-rock should find favour with followers of all the other bands on the night. They will enjoy going on last and should put the perfect, pulsating end to a fine night.
So four great bands to make one great final. The judges will be Stu Blane (One On One), Mark Mortimer (Great Express), Mick Goodby (Depth Charge), Denis Byfield (Reverb PA) and Martin Webster who has helped throughout the contest. Entry is just £1 – and remember all of that is charity-bound. The winners will pick up £50, individual 'Battle of the Bands' trophies and maybe the odd surprise gift. Ina sense all four bands have won already by getting to the final, but the battle is still not over.
By about 11.15 tonight one band will be crowned Tamworth young Peoples' Arts Festival Band of the Year. Will it be the Cheesy Helmets, Wolfsbane, Catch 23 or Breaking Point. Make sure you are there to find out – and don't forget get there early because we are expecting an Arts Centre sell out!
Tamworth Herald – 27/02/87
Musicbox – All square…that's fair!
Battle of the Bands
A MASSIVE crowd piled into the Arts Centre on Saturday night to witness a Battle of the Bands sensation – a dead heat. Two of the three groups – Wolfsbane and The Cheesy Helmets – tied for the top slot and after some deliberation between the judges it was decided to invite both to take part in tonight's (Friday) final. And this is how it went…
WOLFSBANE
Exactly the sort of Dubain homecoming Wolfsbane wanted. There was aloud, lusty and very biased audience, a big, meaty and even louder sound and an exciting, vibrant powerful set.
Wolfsbane, I have decided, never ever play a bad set, and this was an example of one of their most murderous, metallic peaks. 'Get Up' was pricelessly excellent, 'Dane To My Tune' was stylish musical barbarism and 'Manhunt' was as good and as fast as I have ever heard it. Another superb crowd-pleasing set and a special word is in order for Jeff Hateley. Brian Edwards had told me to look out for his bass playing and so I did. And you're right Brian. He's as good with his bass strings as he is with his G-strings.
CHEESY HELMETS
Now THIS is my type of music. This was a quite brilliant set packed with feeling, power and musical charisma. Watching – and dancing – I could spot The Chameleons, The Psychedelic Furs, New Order and several other bits and bobs that combined to make a mighty, strong dynamic 30 minutes. Songs such as 'Steamroller', and 'Memories' are songs of real quality and I wasn't alone in thinking that here is a band with a potentially huge cult appeal. Great music, great show. I wonder what the name means though?
THE CALLING
Playing their first set in their present guise, The Calling battled on surprisingly well against a drum machine that seemed to be working for the other two contestants! Their set was littered with early Sisters of Mercy numbers, which they did with considerable success but the most interesting aspect of the band's set was the improved and impressive guitar work of Paul Keeton which complimented and boosted the whole Calling sound.
THE JUDGES VERDICT
For the first time in the Battle of the Band's three year history the judges – Martin Warrilow, Pam Patton and Rob Cross – gave exactly the same marks plunging both Wolfsbane and the Helmets into an exciting final.
MY VERDICT
When we realised there was a dead heat, I had the option to give a casting vote – but decided not to take it. Both Wolfsbane and The Cheesy Helmets in their own contrasting ways impressed me enormously and for either of them to lose would have been a great injustice. Both oozed style and potential.
Tamworth Herald – 06/03/87
Musicbox – Crowning glory for the kings of rock
SUPER WOLFSBANE turned in the performance of their rock and roll lives on Friday night to deservedly scoop the 'Battle of the Bands' title for the first time. SUPER WOLFSBANE turned in the performance of their rock and roll lives on Friday night to deservedly scoop the 'Battle of the Bands' title for the first time.
Wolfsbane were simply outstanding and even their rivals on the night knew they had come up against a rock and roll tidal wave. Catch 23's guitarist Ray Clenshaw summed it up perfectly "If you're going to lose, you might as well lose to the best," he said.
But talk of victors and vanquished must be held for a few minutes, because the real winner of this whole contest was the Tamworth music scene itself. All four finalists turned in superb performances in front of the biggest crowd ever seen at an Arts Centre concert.
Equally pleasing was that the continued support of the area's music fans means that somewhere between £300-£350 was raised for the local pop charity 'TAMAID'.
This will be held until the TAMAID demo is available in the next few weeks, and then a cheque will be presented to the Quince Tree Special School at Amington as a token of the goodwill and good spirits of the local rock scene.
Everyone should be proud of their efforts over the past four weeks and none more so than the four finalists themselves who helped to give the judges – Messrs. Stuart Blaine, Denis Byfield, Mark Mortimer, John Reeman and Martin Webster all manner of headaches.
Opening up the proceedings were The Cheesy Helmets who turned in a shorter- than-allowed but still very strong set. It was loud, brash and adventurous and once again Richard Cuttler and Mark Brindley bounced around the stage as if they had just discovered the ancient art of the pogo. Guitarist Andy was also very impressive, slicing away at his machine with devilish delight and with Richard and John adding power and subtlety respectively, it was a fine mesmerising set.
Next up were Catch 23 who were greeted with the sort of roar that showed they have carved a very big niche in a lot of people's hearts. Once again the group showed enthusiasm, spirit and inspiring confidence and although their set didn't match the one they produced in the heat (how could it?) it still showed that there is so much this outfit have to offer.
Best of all was the final crucial number 'Twisted Mind' where the band displayed a touch of amateur dramatics to complement a staggeringly tuneful number. It was my song of the night.
And then came what can only be described as 30 minutes of pure joy – Wolfsbane. The group were in tremendous mood and this reflected in the way they played, slayed and drained the hungry, sweating crowd.
Everyone of their numbers was played to musical perfection and their look and stage presence would be the envy of many national heavy metal bands.
All the songs "Get Up", "Dance To My Tune" and the rejuvenated "Clutching At Straws", brought applause the like of which the Arts Centre has never seen, and by the end of their set you would have to be devoid of all five senses not to realise that here is an almighty force. I loved 'em to bits.
New Song
Finally up were Breaking Point who had the unenviable task of following Wolfsbane. Well, Breaking Point are as professional as amateurs can be and their style won over many new friends. One new song in particular "Hitman" was quite outstanding, and the most exciting thing about this most exciting band is they seem to be writing newer and better material all the time.
They have about as much chance of drying up as the River Tame and I for one found all my hopes for Breaking Point rekindled after their strong and increasingly passionate set.
So to the finale. All four bands were called up on stage, given a bottle of champagne and the result was announced – Wolfsbane were the Tamworth Young People's Arts Festival band of the year. They picked up individual prizes (plus a deserved one for Brian Edwards), a £75 prize and the knowledge that no-one begrudged them their victory after such a sparkling set.
It brought to an end four great weeks on the local music scene. Weeks that proved that the enthusiasm of both bands and followers show there are signs of life.