Haylowe
Haylowe
Photograph courtesy: Tamworth Herald
Formed: 1988 Split: 1988
Musical Type/Genre: Folk
Band Members:
Simon Hayward: Vocals
John Buckingham: Drums and Bass
John Priest: Fiddle
Nick Lowe: Guitar/Vocals
Tamworth Herald - 15/04/88
Simon's Long Playing Legend
The legend of the ghostly 'White lady' who haunts the battlements of Tamworth castle, is to feature on a record made by local singer Simon Hayward.
The song tells the story of the beautiful maiden whose lover, the wicked Sir Tarquin, was slain by Sir Lancelot du lac in the meadows below the Castle.
Simon, aged 24, penned it for the 'Celebration' LP being sponsored by Tamworth Borough Council to mark the 200th anniversary of Sir Robert peel's birth and the 400th anniversary of the Town Charter.
The long playing disc, being pressed at the Abbey Road studios in London, features Tamworth singers, folk band Ruffins Well and Triman Amington Band together with many local singers and musicians.
Simon, who lives in Amington, decided to release his song as a single, as his own contribution to the celebration for 'Peel year'.
He wrote another number 'The Highwayman' about the gallows which used to stand on the edge of the town near Perrycrofts, and is issuing the record as a double sided A.
Playing with him are ex-Wolfsbane John Buckingham on drums and bass, busker Nick Lowe on vocals, and Ruffins Well fiddle player John Priest.
The group who are calling themselves Haylowe, are hoping the 1,000 copies of the single will be on sale in the shops in May or June.
"I enjoy writing and singing, and I think Tamworth has a fascinating history," he said.
"This seemed to be a way of combining my interests and joining the town's celebrations."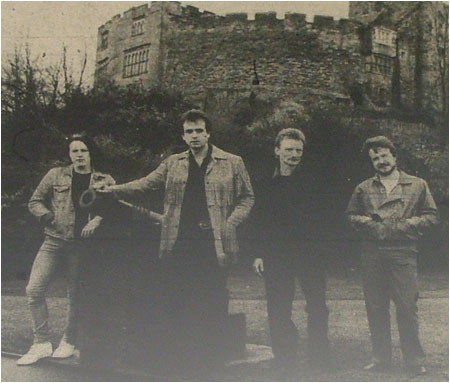 Caption: History on record…john Buckingham, Simon Hayward, Nick Lowe and John Priest releasing their single under the name Haylowe.