Hard Road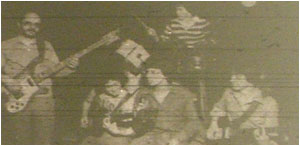 Caption: Left to right: Peter Elliott, Steve Wilson, David Paylor, Gary Lancaster and Andrew Hope.
Musical Genre/Type: Rock
Formed: 1980
Band Members:
Steve Wilson - Lead Guitar
David Payne - Vocals
Peter Elliott - Bass Guitar
Gary Lancaster
Andrew Hope
Tamworth Herald – 04/07/80
Musicbox – Reliving the rock classics
There's one sure thing about the music business – it's a hard road to the top.
And a new band on the local scene from Wilnecote High School have taken that literally by calling themselves Hard Road. The band's explanation for the title is simple. They called themselves after the Black Sabbath track of that name.
The group was started by lead guitarist Steve Wilson and vocalist David Payne. Later, music teacher Peter Elliott brought his bass guitar along to add some depth to their sound and the other members were recruited along the way.
At the moment they are concentrating on cover versions of other bands' material, but they have already written two or three of their own compositions.
---
The full profile and history of Hard Road has yet to be added to TamworthBands.com Call back soon to read the full band details.
If you have any further information about this band please email: info@tamworthbands.com