Hamma
Musical Genre/Type: Heavy Metal
Formed: 1981
Band Members:
"Stormy" Swan - Vocals
Andrew Bradford - Bass Guitar
Frank Ingley - Guitar
[Also in: Ledbelly]
Dave Ford - Rhythm Guitar
[Also in: The Convention, Ledbelly]
Colin Hart - Drums
Gigs:
10/04/81
Hamma
The Chequers
Tamworth Herald – 10/04/81
Musicbox - Heavy Hamma out for a hit
INTERESTED in heavy metal at its most demonic? If you are, be at the Chequers in Hopwas tonight (Friday).
For fans of this particular type of music, already well catered for in Tamworth, now have another band to follow.
Hamma make their debut at the Chequers tonight.
The band have been formed out of the ashes of Ledbelly, the Polesworth R 'n' B outfit who called it a day some months back.
"Stormy" Swan, vocals and Andrew Bradford, bass have joined forces with ex-Belly men Frank Ingley, guitar, Dave Ford, rhythm guitar and Colin Hart, drums, to form Hamma.
Frank explains: "We have moved away from the bluesy feel that Ledbelly had to a more hard-hitting heavy rock style".
AC/DC and Sammy Hagar are cited as the main influence of this potentially exciting new band and at the moment they will be performing 40 per cent original material.
Tamworth Herald – 16/04/81
Musicbox – Hamma show metal
HAMMA – The Chequers
HEAVY metal band Hamma certainly lived up to the big billing given to them before Friday's debut gig at the Chequers.
Described as demonic HM, they didn't disappoint a packed house who came to watch just that.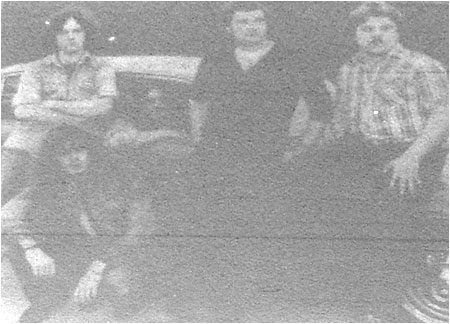 Demonic heavy metal from Hamma (Left to right):
Dave Ford, "Stormy" Swan, Frank Ingley, Colin Hunt and Andrew Bradford.
The full profile and history of Hamma has yet to be added to TamworthBands.com Call back soon to read the full band details.
If you have any further information about this band please email: info@tamworthbands.com