Ha, Ha, Ha It's the Folk Circus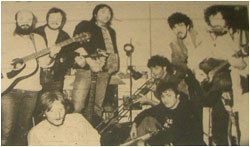 Ha, Ha, Ha It's the Folk Circus
Photograph courtesy: Tamworth Herald
The Gallery
Musical Genre/Type: Folk
Formed: 1984
Band Members:
Norman Yates
Donald Skinner
Dave Smith
Joe C
Richard Bujack
Nick Lowe
John Priest
"Mr. Chapman".
Gigs:
28/10/84
Ha, Ha, Ha It's the Folk Circus
Bolebridge Street Club
11/11/84
Ha, Ha, Ha It's the Folk Circus
Old Stone Cross
18/11/84
Ha, Ha, Ha It's the Folk Circus
Tavern in the Town
Tamworth Herald Features:
Tamworth Herald 26/10/84
Musicbox
'People can just some along to our gigs and join in'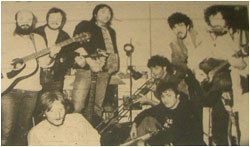 If there is one criticism that can be levelled at a lot of Tamworth bands, it is that they are simply too serious.
A bad gig or a bad reaction can lead to an entirely overboard depression and it seems that some groups try to suffer for their art simply because they think that is what is expected of them.
But no so one Tamworth act. To the independently named "Ha, ha, Ha It's The Folk Circus" music is all about going into unconventional venues, tuning up their guitars and then letting rip with a wide assortment of impromptu folk songs.
The 'Folk Circus' is made up of an ever-increasing amount of well-known local musicians including Norman Yates, Donald Skinner, Dave Smith, Joe C, Richard Bujack, Nick Lowe, John Priest and ever-enthusiastic "Mr. Chapman".
"The whole idea of the group is to present a show where anyone who comes along can get involved," said Mr. Chapman. "The great thing about folk is it is so easy for people to bring along their own guitar and join us on the stage," he said.
The group have a totally original view of how and where to play their music and so far they have played 'gigs' in pubs such as the Boot Inn, the Stone Cross, the Market Vaults and inevitably The Tavern where they set up a café-style atmosphere.
'Fantastic'
"We like to play at places where no-one has played before and the reactions so far have been quite fantastic," said Richard Bujack.
The wonderful thing about the Folk Circus's format is that they have no format!
They merely go to any pub or club where they are invited and present a variety of sngs which feature various members of the group at different times.
The band punctuate their set by asking people to come up on stage and do a turn. What this format means is no two gigs are ever the same and that is why the Circus clearly enjoy themselves every time.
"The reactions so far have shown us that people of all ages like this sort of thing and we all get a great deal out of it," said Mr. Chapman.
The Circus's appeal certainly seems to be catching on and they have already lined up several more 'concerts'. On October 28 they are at Bolebridge Street Club, on November 11 they are off to the Old Stone Cross and then on November 18 they are back at The Tavern.
"This whole idea is another example of the strength of Tamworth's music scene. A few years ago we had nothing and now with things like this the scene is just getting bigger and better all the time," said Richard. "People can just come along to our gigs and join in and for me that is what it is all about."
Tamworth Herald 30/11/84
Musicbox – Factory with a big heart
EX-CHILD'S PLAYER Norman Yates has sent out an appeal for a new bassist into music such as The Alarm. Norman currently joining in the fun of the Folk Circus is after someone with power, talent and a brilliant understanding of the bass.
If you can sit this bill and want tom play alongside one of Tamworth's most experienced and well liked musicians, you can normally contact Norman by popping into the Tavern in the Town.
---
Caption: Ha, Ha, Ha It's the Folk Circus – or rather some of them.
If you have any further information about this band please email: info@tamworthbands.com