Divine Intervention
Divine Intervention
Photograph courtesy: Tamworth Herald

The Gallery
Musical Type/Genre: Rock
Formed: 1989 Split: 1989
Band Members:
Kevin Briggs - Guitar and Vocals
Daydo - Bass Guitar
Batman - Drums
Eddie Madden - Guitar
Tamworth Herald – 25/05/89
Musicbox – SNIPS
Breaking Point as was are no more. Members Daydo and Kevin Briggs have now teamed up with Eddie Madden and Batman (ex Terroah) for an all new band who will make their debut at the festival in Breaking Point's slot.
Tamworth Herald – 16/06/89
Musicbox – Forget image, here's some real music…

FOUR of Tamworth's most popular and longs-standing musicians look set for an exciting new twist to their carers and the outcome could prove absolutely 'divine'.
Former Breaking Point men Daydo and Kevin Briggs plus Batman and Eddie Madden, whose previous credits include Attica and the mighty Terroah, have teamed up to give a defiant two fingers to bands riddled with 'image', cliché and fashion' and the name of the new line-up is "Divine Intervention".
Aggressive
"This is going to be good, raw aggressive music with no particular direction and no definite image", said Kevin, who finally gave up on Breaking Point after a frustrating few months in which the band went through drummers faster than Ron Atkinson goes through football clubs.
"It's going to be the kind of band that lets the music speak for itself and doesn't set any traps by saying 'We are going to sound like this."
Breaking Point were one of the area's most popular bands for years before being overtaken by floods of new young outfits, but Kevin is confident that Divine Intervention can stand up to the best of the new breed – as they'll have to when they debut on the Saturday afternoon of this year's Tamworth Rock Festival.
"Tight leather trousers and all that stuff is out, it's just going to be us and the music that we enjoy doing," he said.
While Kevin, who penned Breaking Point classics like 'Brotherhood of Israel' and 'Nicholas Romanov' is writing many of Divine Intervention's tunes, the talents of the rest of the line-up aren't being ignored.
Arrangements
"We've got a number of songs written already, and although I'm writing most of it, the rest of the band are certainly having their say as regards the arrangements and the stage show presentation," said Kev.
And the influence of the talented Mr. Madden looks sure to show through.
No old stuff
"Anybody who expects us to sound like Breaking Point is going to be sorely disappointed. There's going to be no old stuff in the set at all, although we might possibly do one or two that me and Daydo wrote while Breaking point were still going," added Kev.
Local dates are a strong possibility in the future although the Festival date (which sees them billed just before the positively youthful king Woderick) will be the first time Divine Intervention play live – the perfect opportunity to create a good impression.
And the final comment? "All we ask is that people come along and see what we're like."
---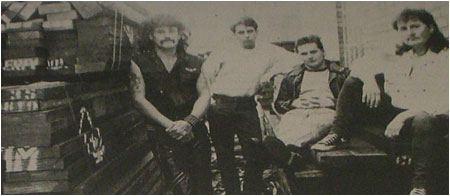 Caption: Divine Intervention…old hands ready to show the new breed a thing or two.