Phil Bates
A musical legacy that stretches back some 50 years, read about one of Tamworth's most famous musical sons, Phil Bates.
---
From Start to Finish and Back Again
My first interest in music seems to have come via my Uncle Graham's old 78s. 'Mr Sandman' I am told was my first love. I drove everyone crazy singing all the parts of that vocal arpeggio at the beginning. This would have been late 50's/early 60's. Thank goodness for The Beatles!!! because the music of the 50's has never inspired me one jot, and Cliff Richard and The Shadows AAARRRGGHHHH!!!!!! I think 'She Loves You' was the first Beatle track I ever heard, but when I put on the 'With The Beatles' album and heard the first track 'It Won't be Long', that was it, I was lost forever. I've never heard anything that makes me feel like I felt the first time that that wonderful noise came out of the tinny sounding speakers of my Dansette. Read the full Phil Bates story...
---
The Teen Beats
The line-up of The Teenbeats was not always a 3-piece. There was a rhythm guitarist called Steve Wagstaffe (Waggy) for a while, but I can't remember the dates. He was sacked because of his unreliability, so we were actually used to playing as a 3-piece much of the time because of that. Additionally, we had a singer called Steve Jebb for a while. He was 6-7 years older than the rest of us and hailed from Sutton Coldfield. Not sure of his dates either.
The best incarnation of the band was the 3-piece featuring Stef Carfoot, Ron Allcott and myself, especially when we transmuted from a 'pop' band into a 'progressive' rock band towards the end of our time together.
We used to set fire to Stef's cymbals and have dummy speaker cabinets so we could pretend to smash them up like Hendrix and The Who. All a bit silly in Kingsbury, Fazeley and Kettlebrook Working Mens Clubs etc. I also knackered my front teeth permanently during this period by playing my guitar with my teeth à la Hendrix.
The band's career was blighted by the fact that we were obviously a much worse band than we thought we were because the various band competitions we entered in Tamworth always saw us finish last. Still we did plenty of local gigs in our time and I was bitten by the bug and went on to do music happily(?) ever after. Read the full Teenbeats story...
Phil Bates
---
Tamworth Herald – 03/11/72
MUSICBOX - Kwil
Dosthill's guitarist Phil Bates has, together with his band "Kwil" released their first single on the Parlophone label.
"Spent the Rent" is the 'A' side number and it has received about 20 plays on Radio One.
Kwil's drummer, Tony Rose, has written the song and the sound is happy, with a catchy melody and lyrics
Phil plays bass and contributes to the vocal harmony. The unusual combination of violin and ukelele contributes to the special sound that Kwil are establishing. Hit Parade success is always a difficult business but this record could do well if it gets enough exposure.
The 'B' side is another Tony Rose number called "Every Little Thing" and this is also as pleasant song which has a good dancing beat.
On Wednesday, Kwil were in London recording their next single which is due for release after Christmas.
A Phil Bates composition, "Wouldn't It Be Nice" will be featured on this one. Members of Tamworth's night spot, Susanna's will be familiar with the group, as they played there recently. On Friday, Kwil start a club season in the north, but they will be back in the Midlands in mid-November. Read the full Kwil story...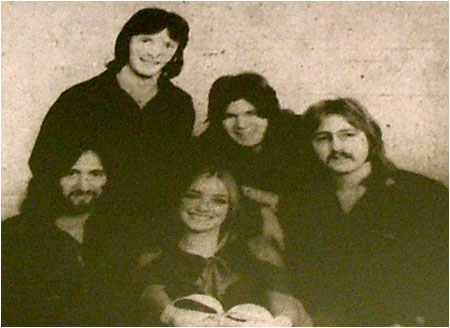 Kwil
Tamworth Herald - 28/03/75
Musicbox – Kwil and Billy Bates
Local favourites Kwil have released their second single and it is in the shops now. The song has been penned by drummer Gill Sowell and is entitled "The Stripper".
After a spell of rest Kwil are now back in action. They played on the Kenny Ball bill for Tamworth Round Table last Saturday and are next in the area at Drayton Manor on Friday April 4.
Dosthill singer/songwriter Billy Bates will soon be having a song released on the Spark label and the act for whom the song was written will be appearing on television.
The children's act Bengy the Bear and Rumpo the Rabbit will be appearing on New Faces backed by Billy and the Terry Lightfoot Band – who will be playing "We Love Bengy" Words and music by Billy Bates.
Returning to his serious career Billy has just finished his mater recording of his second single which is dues for release in the early summer.
---
Billy Bates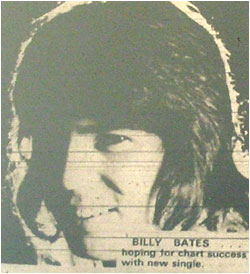 Billy Bates was, of course, Phil Bates. The name was picked up for use by my manager, Reg Tracey, after the Kwil bass player, Wally Lowe, who later joined Magnum, used to call me by this name onstage as an affectionate joke. I have always hated the name Phil Bates, wondering how anyone could ever be successful with this moniker. Then again, how could I ever have thought that Billy Bates was an improvement?
Billy Bates had a short and unspectacular career. The first, and only, single was 1974's 'Mr Hand Me Down'. Did quite a bit of recording at the Southern Music studio which was only 8 tracks, but had great gear, and a great engineer in Colin Thurston (later to produce Human League, Duran, Duran etc). Some of the tracks featured string sections and brass sections etc, but I was not then, and am still not, a very commercial songwriter, so nothing else escaped to terrorise the world.
The name did have a brief extension when I briefly became a band and transmuted into the Billy Bates Company, with Colin Thurston on bass and a Womble on drums. Again one single, 'Take to the Mountains', which got great reviews but no airplay. It was an OK song, but the record is very sickly and sentimental. Not one of my better moments.
The Billy Bates Company then became Trickster in 1976. Trickster went on to record two albums for Jet Records, release countless unsuccessful singles, and toured with ELO, Boston, John Miles, Meat Loaf, Foreigner etc. in the UK and USA. We were then unceremoniously dumped from the label just as my song 'I'm Satisfied' began to threaten the lower reaches of the charts. C'est la vie! Read the full Billy Bates story...
Phil Bates
---
Tamworth Herald – 15/04/77
Musicbox - MAGIC
United Artists launch new group "Trickster" today with their first single available in the shops. "Trickster" feature local born musician Phil Bates on vocals and lead guitar.
The new single has been penned by Phil Bates in partnership with Colin Hewinson who plays keyboards and the line up has been for the top by many leading critics.
On the "A" side the song is a down tempo number called "To Fly Away". The opening bars emphasize the Bates vocal ability and the Hewinson keyboard expertise.
It then builds into a rather complicated vocal instrumental piece which demonstrates the full musical capability of "Trickster".
"Never Too Old to Rock 'n' Roll" is the 'B' side offering, which switches to the up tempo true rock and roll sound which still finds wide appeal.
"Trickster's second single is due for release in July with an LP scheduled for the Autumn. Video tape films have also been shot and watch out for these which include one or two surprises.
---
Tamworth Herald – 14/09/79
Musicbox – SOUNDS SUCCESSFUL
TOP Tamworth singer/guitarist Phil Bates – one of the original members of local band Quill – is hitting the big time.
Twenty-six-year-old Phil, a former Wilnecote High School pupil joined London group Trickster three years ago and after four singles and an album the five-piece outfit are beginning to break into the music world.
Their current single "I'm Satisfied" – released by Jet Records – is receiving a lot of radio recognition and Phil predicts that if sales carry on as they are now, the single could soon be among Britain's top 100.
Last year Trickster toured the world with chart busters ELO and are presently supporting Boston on their European dates.
A new album "Back to Zero" is due for release next month to coincide with their British tour.
The single and 'B' side "Rock 'n' Roll Clown" are taken from the LP.
"This is the first record we've had that has received a lot of airplay," Phil said, "And we're very hopeful of it becoming a hit.
"However, our music does tend to be varied so if this one doesn't make it we could release others from the album.
"We have several people writing our material so it tends to vary as we don't want to lean on one style of music."
Phil started his musical career playing in local bands. He was one of the original members of Quill and stayed with the band for two years.
After moving to London he joined Trickster where he shares vocals and guitar with Mike Groth. Other members of the group are Colin Hewinson, on keyboards, John Fincham, on vocals and bass guitar, and Paul Elliott, on drums.