Camelot
Musical Genre/Type: Heavy Acid Rock
Formed: 1970
Line-up:
Aden Archer (19), drums (Polesworth)
John Snilth (21) bass guitar (Tamworth)
Rod Harrison (21) lead guitar (Tamworth)
[Also in Sky Blue Pink and Ramrod]
Tamworth Herald Feature
Tamworth Herald – 06/02/70
Local group hope to make charts
A LOCAL GROUP may soon be making a bid for the record charts as a well known progressive recording company wishes them to make tapes of their compositions at the company's studios.
A song writing contract with a music publishing company is also a future possibility. The group is retaining a semi-professional status for the time being with Archer continuing work as a joiner and Snip and Harrison as tele-communications engineers.
However they hope to turn professional as soon as Camelot has established its name and reputation and the future looks promising. Bookings include a local concert and a two week tour of Ireland definitely fixed for early March.
Recently formed "Camelot" describe the music they play as "heavy acid rock" and comprise of Aden Archer (19), drummer from Polesworth, John Snilth (21) bass player from Tamworth and Rod Harrison (21) also of Tamworth, who plays lead guitar. All have formerly belonged to other local groups.
Rod Harrison, believes their key to success in the future will be the originality of their composition and playing. The group is to make tapes of their self-penned compositions for a recording company which is interested in recording Camelot at a future date.

Gigs:
31/01/70
William Tolson Mill Social Club Dance
Silver Leaf Serenaders plus Camelot
Missanda Suite, Drayton Manor
06/02/70
Camelot
DJ Dave Keen
Polesworth Memorial Hall
Millbank Promotions
06/02/70
Camelot
Dave Keen Disco
Polesworth Memorial Hall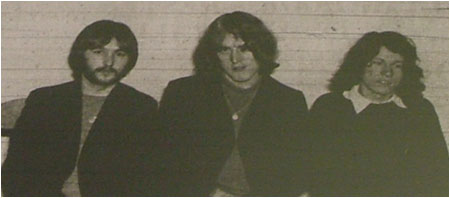 Camelot - pictured left to right are lead guitarist Rod Harrison, bass player John Snip and drummer Aden Archer.
If you have any further information about this band please email: info@tamworthbands.com