1963 : Brian Poole & The Tremeloes
Brian Poole and the Tremeloes appeared at Tamworth Assembly Rooms on September 2nd 1963.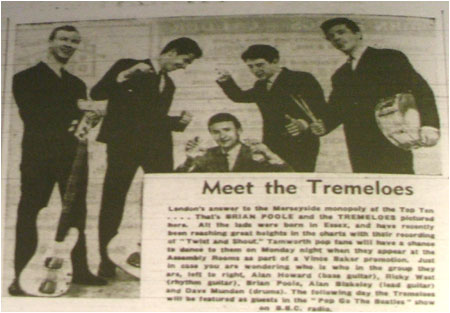 Meet the Tremeloes


London's answer to the Merseyside monopoly of the Top Ten…That's

BRIAN POOLE and the TREMELOES

pictured here. All the lads were born in Essex, and have recently been reaching heights in the charts with their recording of 'Twist and Shout.' Tamworth pop fans will have a chance to dance to them on Monday night when they appear at the Assembly Rooms as part of a Vince Baker promotion. Just in case you are wondering who is who in the group they are, left to right, Alan Howard (bass guitar), Ricky West (rhythm guitar), Brian Poole, Alan Blakeley (lead guitar) and Dave Munden (drums). The following day the Tremeloes will be featured as guests in the 'Pop Go The Beatles' show on B.B.C. radio.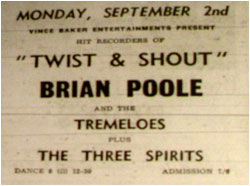 BRIAN POOLE and the TREMELOES at Tamworth Assembly Rooms September 2nd 1963